About Us
Welcome to Powerhouse Golf, specialist in Single and double seater Golf buggies and electric Golf trolleys, dedicated to provide total customer satisfaction. We offer new and used equipment Open 6 days a week, Powerhouse Golf offer everything you need 'under one roof' at our Middleton Centre.
Our premises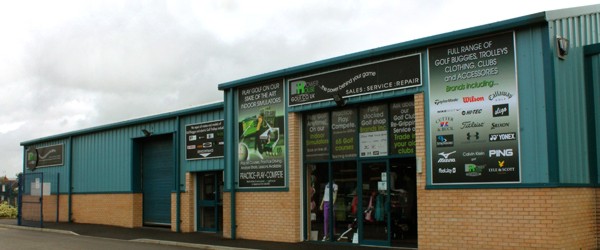 Powerhouse Golf operates from a 10000 sq ft modern retail unit. We display all of our products for you to see feel and try. Within our unit is a full repair workshop, so that we can offer immediate after sales service on our products and many others.
We have easy access from the M62 Motororway at Junction 19. There is adequate parking on our private car park. We have disable toilet facilities and easy wheel chair access to all parts of our building

Opening Times
Monday 9.00am - 5.00pm
Tuesday 9.00am - 5.00pm
Wednesday 9.00am - 5.00pm
Thursday 9.00am - 5.00pm
Friday 9.00am - 5.00pm
Saturday 9.00am - 12 Noon
Sunday CLOSED

What we sell
Powerhouse Golf is at the forefront of the golf buggies and trolleys industry, offering the latest technology in the market. We offer a wide range of golf buggies to suit everyone's budget including VAT exempt pricing (conditions apply). We also offer an unrivalled after care service to help you get the most from your golf buggy. We stock spare parts for all our buggies including older models and provide buggy maintenance and repairs 6 days a week.
How to Find Us
We are easy to find, our address is:

Powerhouse Golf
96-100 Rochdale Road
Middleton
Manchester
M24 2QA
Tel: 0161 654 6981

Click here for directions to our showroom from your location or alternatively use the directions below from the M62

1. From the M62 take Junction 19 (A6046) Signed Middleton, for approx 1.5 miles.
2. At the end of the 2 miles take the left turn at the traffic lights, Rochdale Road (A664).
3. After 50yrds, you will then see our building on the right hand side.
4. Car parking is available through the main gates at the front of the building.

Registered company details
Ideas Solutions (Retail) Ltd. 96-100 Rochdale Road, Middleton, Manchester M24 2QA
Telephone: 0161-654 6981
Registered Office: Stirling House, 501 Middleton Road, Chadderton, Oldham OL9 9LY
Registered No. 07268576 Vat Number 992 9134 78